Book Sales (TNG Standard Issues)
Due to the current Coronavirus pandemic, we are unable to fulfil orders for items published before 2020. This is due to the stock being located in our Library which is currently inaccessible due to access restrictions.
The following items will be available for purchase and are subject to availability at the time of ordering.
All prices are in UK Sterling and all items are available from the Sales Officer
Trade Orders for our magazines
Orders are welcome and we offer 40% discount, settlement within 30 days. On orders for six or more (can be mixed) post and packing is free; for fewer than six, postage will be charged at cost. Contact our Narrow Gauge Railway Society Sales Officer
Index:
The Narrow Gauge - Standard Issues can be found below
The Narrow Gauge - Special Issues can be found on Book Sales (TNG Special Issues)
Narrow Gauge News - Issues can found on our Book Sales (NGN Issues)
The Narrow Gauge - The Narrow Gauge Heritage Issues 1-100 (download at no charge)
Narrow Gauge News - Narrow Guage News Heritage Issues (download at no charge)
Standard Issues of "The Narrow Gauge" (latest at the top)
278. September 2022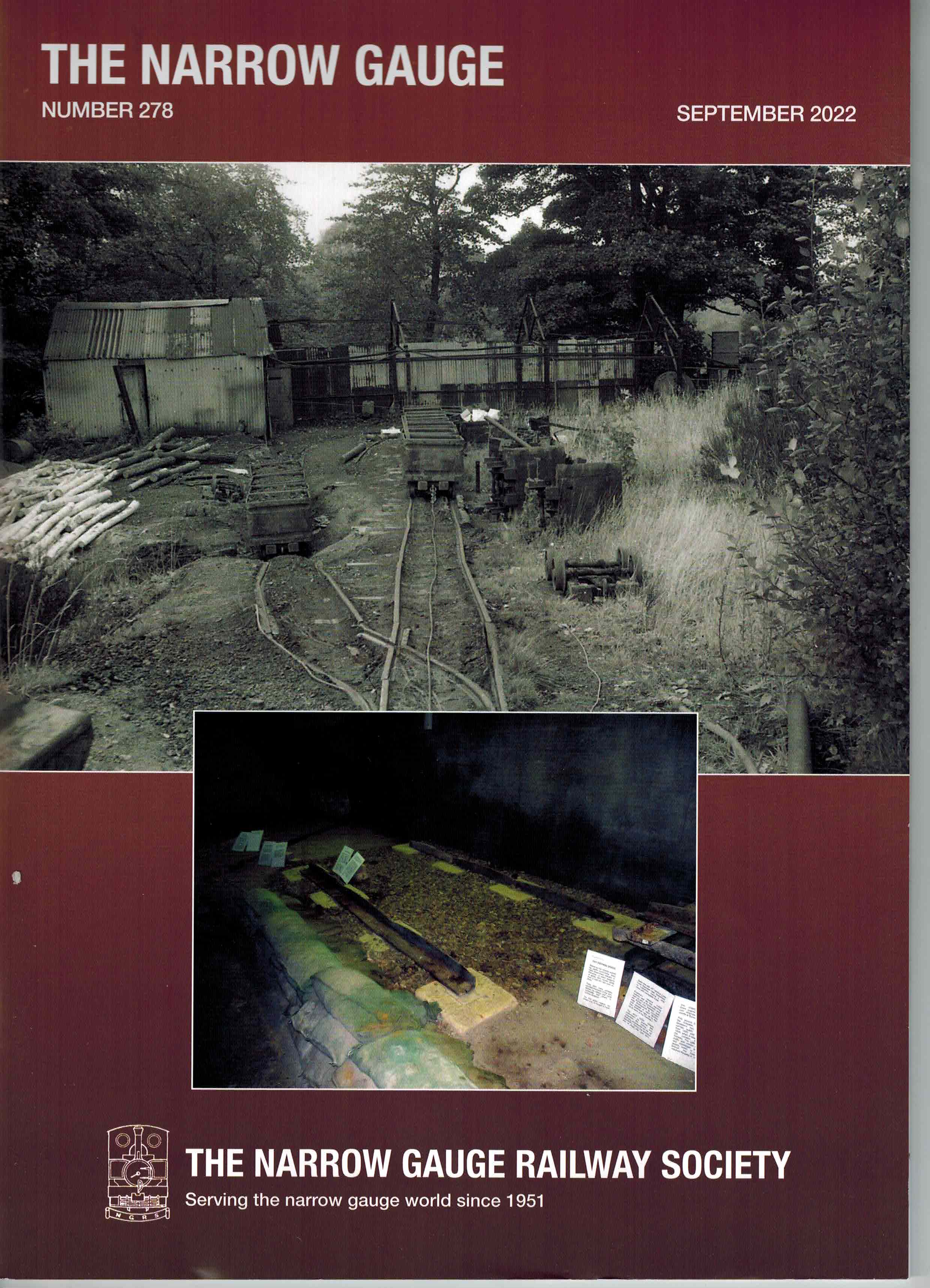 Contents:
Retraceing the Surrey Ironstone and Croydon, Merstham and Godstone Railway.
By Jonathan James and Steve Barber
Some North Staffordshire Footrails by Sydney A. Leleux
Outside Flanges at L. C. C. tramway works, Charlton by R. G Cash
Lime Kiln Wharf Industrial Railway by Sydney A. Leleux
Ashover Light Railway Society, Rowsley by Sydney A Leleux
The last Narrow Gauge Branch in Chile by Dr Michael Grimes
The Turda and Abrud Railway by Peter Howie
Identification Needed
Vall de Nuria Railway by Lionel Kay
South African Steam Bagnall Locomotives Fr the Tongaat Sugar Company by Alan C Baker (Update)
Correspondence
276. May 2022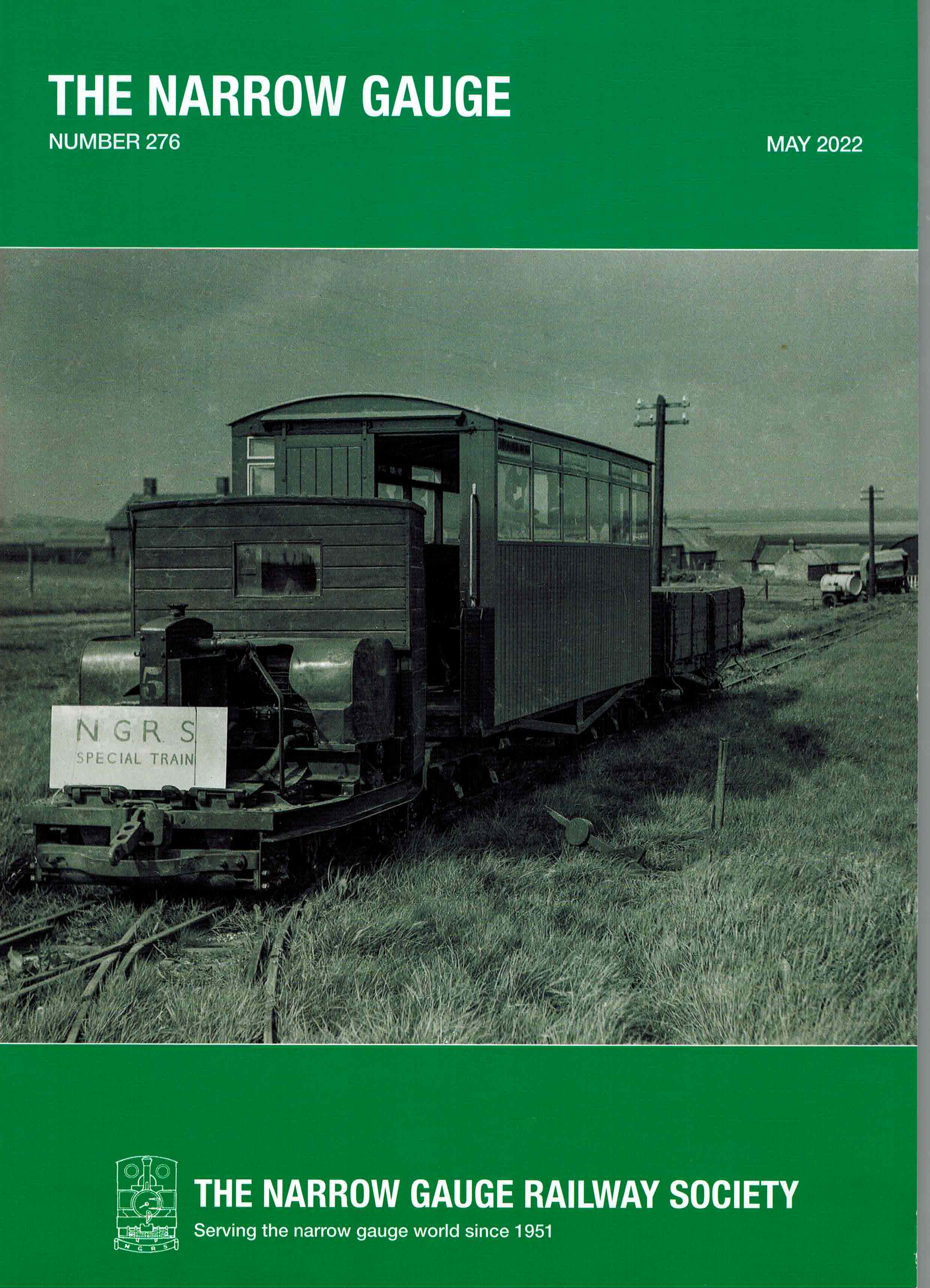 275. March 2022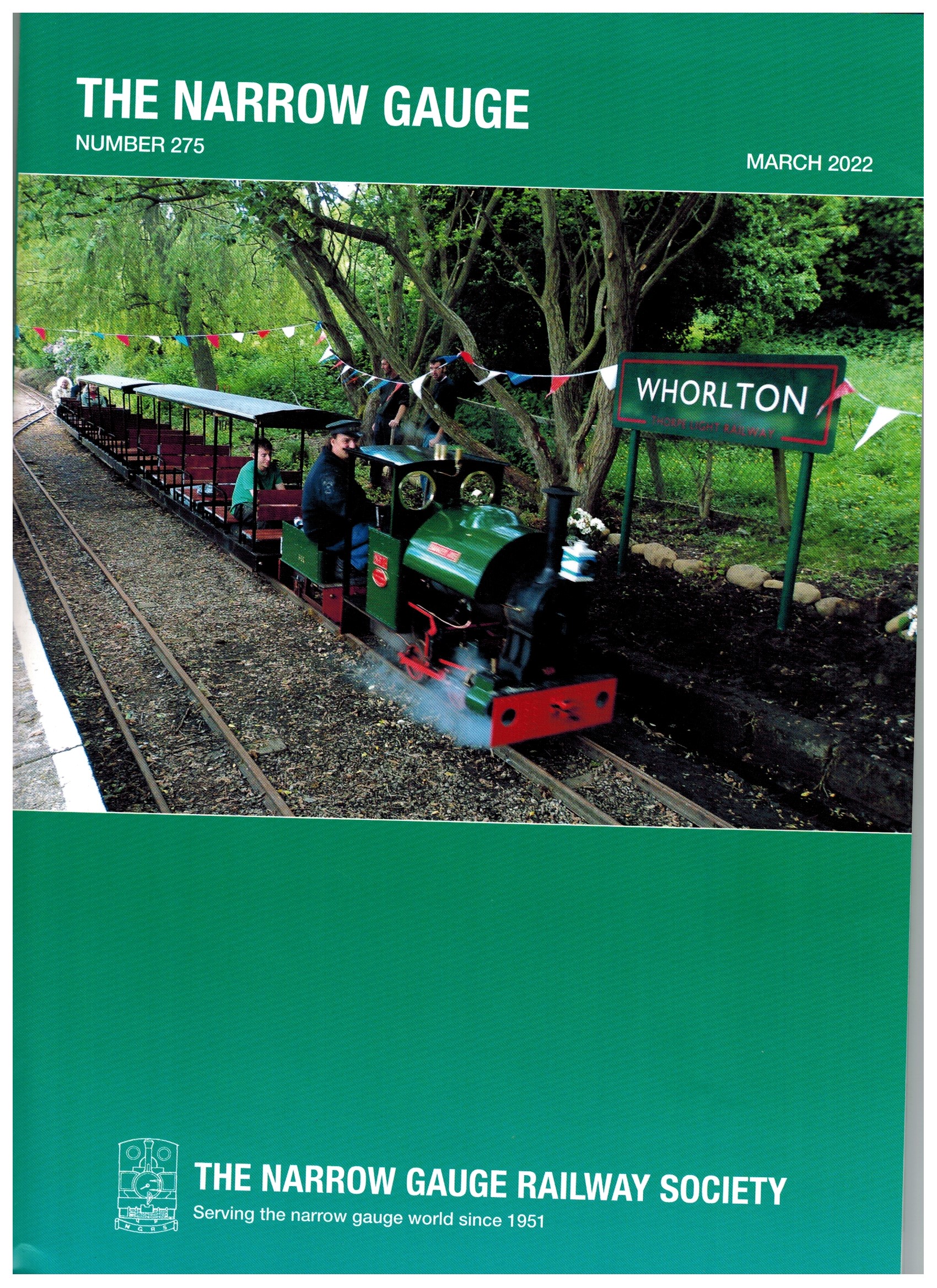 Contents:
Saving a 15inch Railway - Philip Champion
Horse power and Cast Iron The little Eaton Gangroad - R. G. Cash
Outside Flanges - Sydney A. Leleux
Baron Empain and the Cairo to Helioplis electric Railway - Jim Stancliffe
Petit Train du Jardin d'Acclimation - Jonathan James
Information needed – The answers - Iain Logie
More identification needed
Scenes from the past - Graham Fairhurst
273. January 2022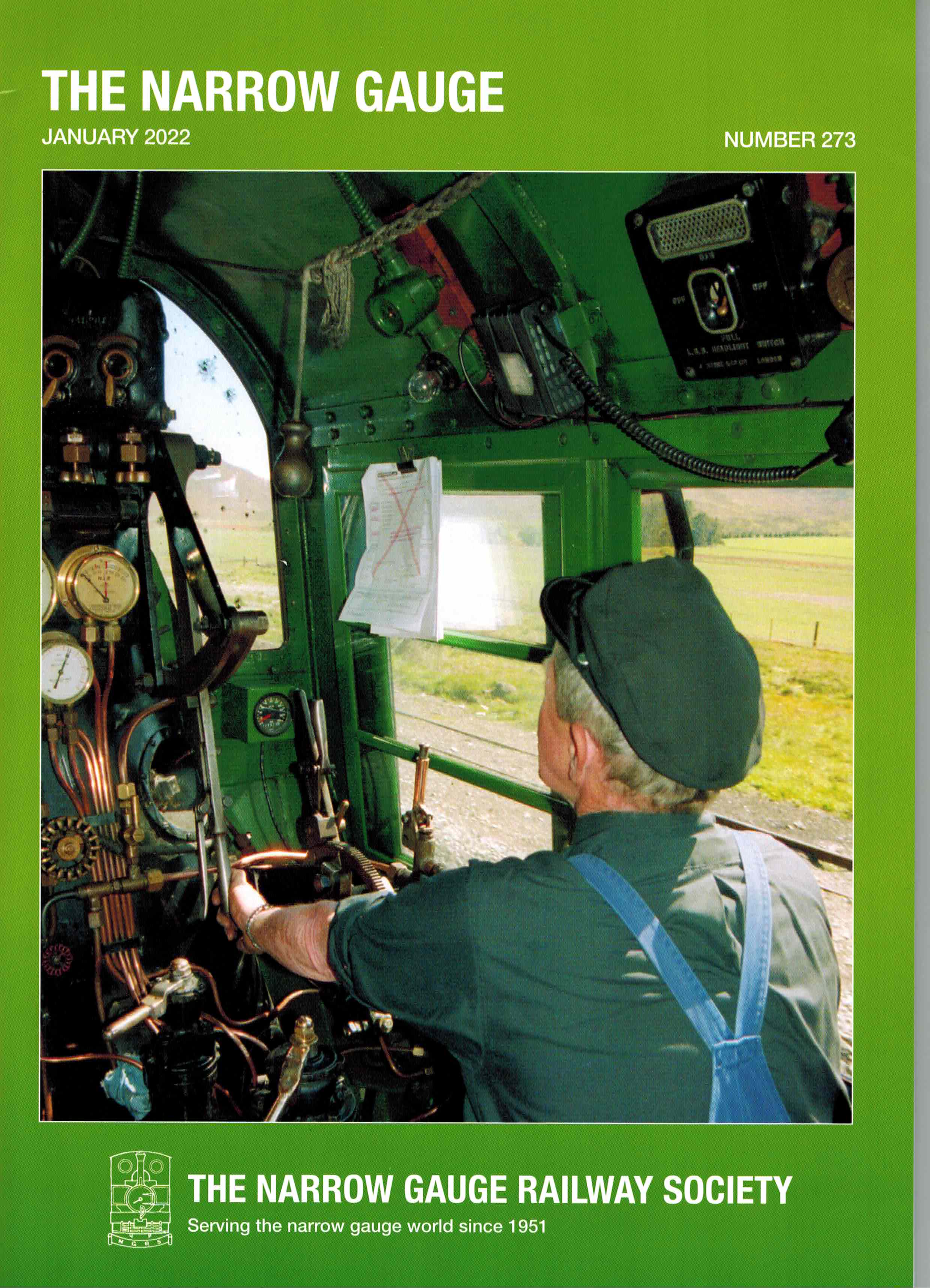 Contents:
The Midland Line in New Zealand – Route of the Tranzalpine Jim Stancliffe
Bagnall 2820, Stephen Mourton
The Meteors – an update, Stuart Madgin
Swiss snow blowers, Mervyn Pritchard
Model Railway in the 1870's, Sydney Leleux
Identification Needed, Iain Logie
272. November 2021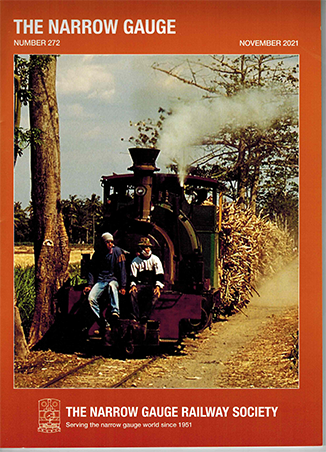 Editor Alan Burgess 40 pages Colour and Black and White
Porton Down Light Railway by Mervyn Pritchard
The Never Stop Railway by R. G. Cash
50 years on – Trangkil No 4 by Mike Smith
AS visit to Stuttgart by Rabbi Walter Rothschild
Haljinici Coal Railway by Nigel Hodges
Letters
271. September 2021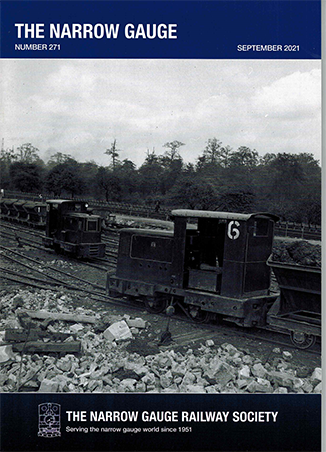 Editor Alan Burges 32 pages Colour and Black and White.
The Hadley Wood Tunnel Contract by Andrew Neal
The Gethin Tramway by John L. Townsend
Day trip to Volos by Jim Stancliffe
The railways of The Hawaii Islands
China Logging Lines by Mike Clendining
269. July 2021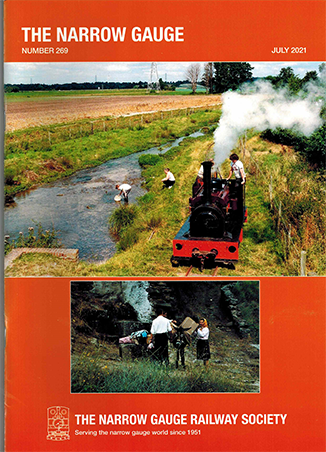 Editor Alan Burgess 52 pages Colour and Black and White
The Surrey Light Railway by Ian Oughton.
A short history of narrow-gauge modelling by Sydney Leleux.
Perched on top by Mike Gray.
Memories of Portugal.
268. April 2021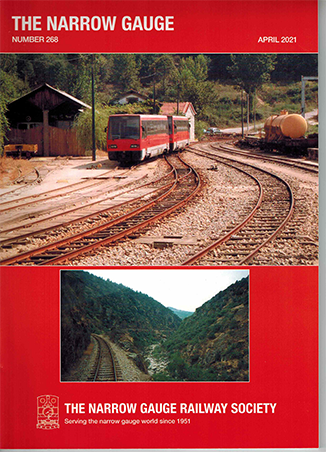 Editor Alan Burgess 28 pages Colour and Black and White
Building miniature railways 50 years ago by Philip Champion.
Aspects of Funiculars by Mervyn Pritchard. Cranes by George Cash.
Self-build on 13.25-gauge by Gordon Brown.
Ken Hartley's Travels.
Vales Plant Register by Mike Smith.
The swansong of the Doro Valley narrow gauge by Ray Wilkinson.
Railways in Libya by John Harris. Letters.
266. March 2021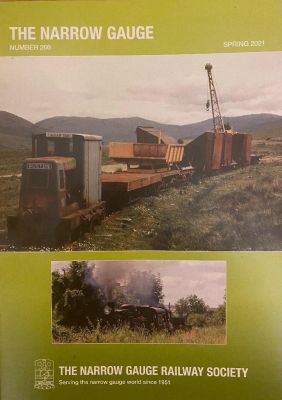 Editor Alan Burgess 40 pages Colour and Black and White
Royal Trains on War Department Light Railways by Norman Drake.
My Early days in narrow gauge – BICC Belvedere by the late Dave Billmore.
The eighties hybrid loco build by Chris Hopley.
Ireland for a day by Mike Swift.
Harrogate gasworks railway by Alan C. Baker.
The railways of Majorca in 1967 by John Townsend.
More on the St Kitts Scenic Railway by Mike Tedstone.
Summer in Poland. Lochaber Upper Works Railway Peter Howie.
Ponferrada Villablino by Les Tindall.
Vales Plant Register by Mike Swift.
United Plantations Mystery Locomotive.
Miscellanies
264. January 2021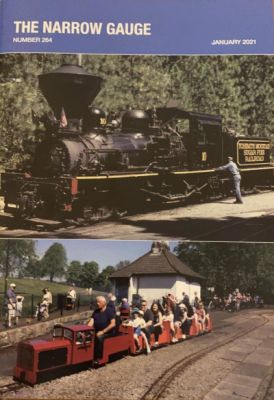 Editor Alan Burgess 40 pages Colour and Black and White
The Lincolnshire coat Railway by Mike Smith.
The West Side Lumber Company California U. S. A. Adrian Garner.
United Plantations mystery Locomotive by Norman Drake,
Earth Lifting in Africa by Sydney Leleux.
70 years of the railway in Strathaven Park by David Williams.
The Crowlas Woodland Railway by Ken Hartley.
Dampfbahn Furka Bergstrecke by Mervyn Pritchard.
Winter in Poland by John Moore.
263. November 2020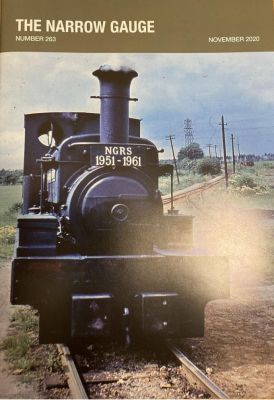 Editor Alan Burgess 52 pages Colour and Black and White
A day at Kettering and Wellingborough By Mike Swift.
Around Dduallt by Sidney Leleux
The Malta Railway by Ray Wilkinson.
Bowaters Sittingbourne Railway by Jim Stancliffe,
Swindon's 1050mm gauge 2-6-2Ts and Locos "Captured at Sea" Iain Logie.
The other Railway through the Rock of Gibraltar by Robert Wood.
Chatworth's Coal Tunnel.
A Christmas Visit to St. Kitts Sugar by John Scholes.
Of the road again. Bryan Stone and Sydney Leleux.
Postcard Mystery solved by Norman Drake.
Linz trams in 2012 by John Moore.
Letters.
262. September 2020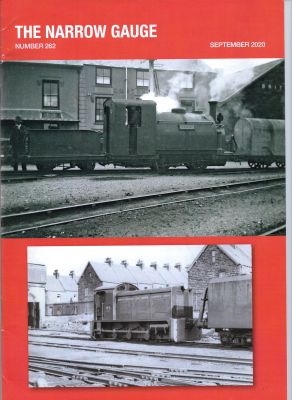 Editor: Alan Burgess. 44 pages. Colour and Black and White .
Harrogate Gas Works Railway - The Drewry Diesel. Bure valley Railway at 30. Ken Hartley's 1930 Welsh Wanderings. Cambeltown & Machrihanish Light Railway Postcards. Cumbria, Northumberland and Durham, March 1962. Quarries in the Yorkshire Dales. Greek metre gauge in 1987. To next door by trolley. Verkershaus der Schweiz. A Garratt restored at Sandstione.
260. May 2020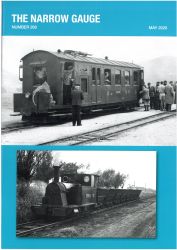 Editor: Alan Burgess. 40 pages. Colour and Black and White .
Ken Hartley's Travels the Sand Hutton Railway, The Daveyhulme Sewage Works Railway: some additional pictures Robert Nicholls, Exporting is fun Mike Swift, Turning at Fairbourne Graham Billington, The NGRS 1956 visit to Austria Iain Logie, Riding to Burtonport in 1937 Andrew Neale, A visit to Shantytown John Moore, North Yorkshire Quarries Richard B A Holden, Chucarapi – a Peruvian mystery solved Iain Logie.
257. January 2020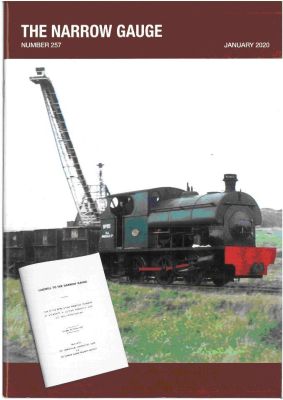 48 Pages Colour and Black and White.
Includes: Finedon Quarries farewell 1966, All at Sea: narrow gauge on board the Royal Navy by Norman Drake, Minis on the Mersey by Peter Clowes, Some British narrow gauge turntables by Sydney A Leleux, Berchtesgarten Salzbergwerk railway from postcards by Tony Bird, Found in New Zealand by John Moore, Narrow gauge at Port Sudan by Norman Drake, Cuban steam holiday 2004 by Lawson Little, More on Majorca by Peter Arnold, Rovos Rail and Shongololo Express by John Moore, The Iguassu Falls Railway by Dr Michael Grimes, Colombia update by Bob Whetham, Trams in Soller by Ray Wilkinson and Romanian forestry and other narrow gauge railways 2018 by John Moore.
If you care to make a donation to the NGRS when making a book purchase, please use the Donate button here.
Thank you!
If you prefer to pay by cheque, rather than complete your purchase online, please send your order to the Sales Officer enclosing a cheque for the appropriate amount, made payable to 'Narrow Gauge Railway Society'.